For over two decades Valerie Hoff and her husband, Gerry, have made their business from carving into bones.
It was only illegal for the first few years.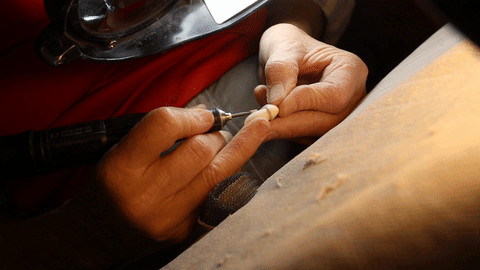 And then, unlike most would-be criminals, the Hoffs accidentally turned themselves in. Not to the police. To Maine Inland Fisheries and Wildlife.
It was 1999, and for a few years the Hoffs had been growing a small business selling beef bones carved in the New Zealand Maori tradition, when friends had a car accident involving a Maine moose. After processing the animal for meat, the moose's bones were passed along to Valerie and Gerry to experiment on. The pair found the femur bone particularly suitable for bone carvings and decided to pursue it as a medium.
Unfortunately, it was illegal sell moose bone, something the Hoff's discovered when looking for documentation to bring their jewelry on a trip to New Zealand. The whole ordeal caused a bit of emergency legislation in the Hoffs' favor, making them distinctly former would-be criminals.
(Image: A crate full of treated moose femur bones. To get them to this stage takes "two weeks of ugly," according to Gerry.)
Why go through all the trouble? Well, to put it simply, they tried an experiment when they first swapped beef bone for moose. The same carvings, side by side, presented for customers. What would they choose?
The moose won out every time.
"Because it's Maine and moose, I think there's a connection there," Valerie explains while seated in the office area of their large studio and gallery, a building located only a couple hundred hundred feet from their Mount Vernon home. Gerry half-shrugs. To him, bone is just another medium, a material they've developed a preference for over wood, stone or ceramic. Just another way to express themselves. But Valerie disagrees.
"There's something about bone. It's different. A person responds very differently to bone than they'd ever respond to pewter," she says. "Bone is the essence of an alive being."
Gerry and Valerie have very different views on bone carving and their small business, but that's what makes them able to work so well together. Ask either of them, and they'll tell you upfront: Gerry is the "designer," the "artist," and Valerie is the "technician," the "shop keeper," and the one who connects to and names each individual piece.
The distinctions throw me off — Valerie, not an artist? I push her a bit on the issue and she laughs, saying that they have a friend in New Zealand who loves gets into arguments with her about that topic.
"I think that I don't understand what an artist is. That's part of it. But Gerry — Gerry's creative," she insists, explaining that while sometimes she'll pass along a "terrible" sketch to her husband for a carving idea, he'll always turn it into a polished, practical 3D diagram of how to make that carving reality. "I look at materials and see what they ought to be. He looks at sees what they could be."
When Valerie talks about bone carving, despite not being the "artist" of the pair, her passion is apparent. She references this idea of "freeing the sculpture from the bone" and tells me that she's more than happy to spend hours in her specially set-up recliner, staring through her magnifying glass and handling her drills and bits of bone. If it weren't for getting hungry and needing sleep, she'd probably sit there for days.
Gerry, for his part, says that the really satisfying part has never really been the carving but the designing. Once he puzzles out how an idea, a concept, can actually be carved out of the bone, he's more than happy to leave his wife to carve it. Nowadays he doesn't really carve at all. Valerie teases him about this part of his personality, his creative process — he can never seem to get projects done, no matter the medium. At least with the bone carving, she has the ability to bring it to the final stretch, to bring it to the customer, because for Valerie "the carving isn't done until it has a home. It isn't supposed to stay with me."
Which brings out Valerie's other job at Maine Bone Carving — the ones who connects to the customers and to the products. She loves the customers, wants each of them to be as happy as they can be. So much so, she jokes, that if she sends an e-mail confirming the receipt of a carving and all she gets back is an e-mail saying, "Yes, we got it," then she can't help but drive herself crazy wondering, "Oh no. What's wrong with it?"
The business has been through so many iterations in the last twenty years, from online sales to the gallery, to craft shows, to an almost mass production-style few years. Last year they both took a break from it all, because "it started to feel like the business owned us." But now?
"I'm 68. I'm going to do what I want," Valerie proclaims, going on to explain that they mostly just do custom orders nowadays, or whatever in-house design strike their fancy. "We're retired. We can do what we do because we're retired. And, if we don't make a lot of money but we're still having a reason to get up every morning and enjoy what we're doing then it's okay."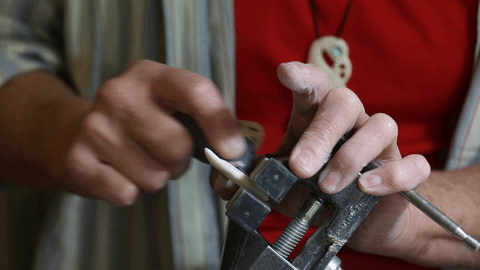 ---
Valerie and Gerald Hoff
Maine Bone Carving
mainebonecarving@yahoo.com
1-877-56-BONES
Mt. Vernon, Maine 04352
http://www.mainebonecarving.com/