Fluttering canvas sails become paper. Masts become toothpicks, and the hull is formed from a block no bigger than a finger instead of planks and planks of wood. The raging sea becomes a colored mass of carefully pressed clay. Nails and rope become Elmers glue. Epoxy.
"One time I sneezed and I lost, like, six cannon," Dana Perkins tells me, shaking his head and laughing at the memory. "I looked up and they were just gone."
It's not easy working in miniature. Even harder? Putting everything together through an opening less than an inch wide.
If you hadn't gathered by now, Dana makes model ships in bottles. He also makes model houses in bottles. Actually, Dana even has a model Christmas tree in a bottle in his current collection. I suspect he'd pretty much bottle anything if you asked him to.
Dana's been bottling for about three decades for friends and family, but it was only until about three years ago that he started getting serious about selling his models and turned it into a full time gig.
When Dana first started considering bottling as his day job he reached out to gift shops across Maine. But he quickly discovered a market saturated in little model ships made in China — wildly inaccurate, shoddy things. But cheap! So while Dana's ships are certainly made in Maine, not a lot of them are sold here.
When faced with issues selling locally, Dana "threw up a little one page website" and carved out a niche for himself in custom jobs. He tries to be as accurate as possible, researching a ship's plans and drafts, plus photos from all angles. If the ship is historical he'll read up on its descriptions and look for illustrations.
The end goal: a tiny, perfect miniature mysteriously encased in glass.
And that's really the thing for Dana. The mystery. He says, sure, he's always loved arts and crafts. He majored in fine art, and went on to own and operate a print shop until allergies to the chemicals drove him into graphic design. He retired for a bit and spent his time working at the craft store Michaels, where he said, "I was in heaven. It was like every time I opened a box, 'Wow what can I do with this?'"
Even beyond crafts, Dana's Dad used to take him on trips to a maritime museum with lots of ship models when he was younger, which always fascinated him. And maybe all that is what initially drew him to that first ship, that first bottle, but it's not what's kept him going all these years.
For Dana it's the moment a person looks at his creation and gasps, "How did you do that???"
"That's the thing that every bottler is looking for," Dana says. That air of mystery.
And it's not surprising, really. This is a man who is a magician on weekends. This is a man who loves the magical quality of mystery. (I'd dive more into that but, really, that's a whole story in and of itself!)
Unlike magic tricks, though, bottling does not lose it's mystery when you go behind the scenes. If anything, I'm more confounded than I was when I first contacted Dana. His workspace is scattered with surgical tools, pieces of wire that can be bent and flexed, and long sticks with little razor blades glued to the ends. What most of these tools do, I could not tell you. Even after watching them in use.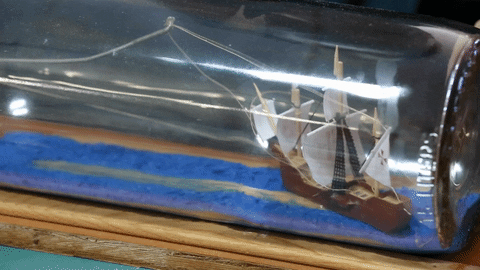 "I use whatever's necessary," he says. "You know. Whatever works."
And making model ships is a slow, slow process. Dana says it takes 3 – 5 days to put together a single ship. Plus, things can easily go wrong in miniature; he once spent half a day slowly sawing at the glue on a piece that's parts had shifted while set out to dry overnight.
The propensity for mistakes, the tiny tools and materials, and the slow, slow progress make bottling a frustrating, sometimes stressful job. And Dana admits that he's been on the edge of throwing a bottle at least a handful of times — but he'll walk away to work on another project, slowly puzzling out his problems and taking all the time he needs. After a lifetime of commercial art, printing, and design, where everything was a rush job and deadlines loomed, slow is good. Slow is lovely. You can't rush job a tiny miniature ship.
And once it's done it's so satisfying. So perfect. And he's created a memento for someone, something "they can put on their desk or shelf and it brings them to a place or a thing that they have a fond memory of."
---
CONTACT INFO
Dana Perkins
http://www.maineshipsinbottles.com/
artservice@gwi.net
Saco, ME
207-283-6480